Aluminum Signs
Our aluminum sighs are made of two pre-painted sheets of .008" aluminum with a solid polyethylene core (for a total thickness of approximately 1/13 inches). They are weather resistant and work great for a variety of uses including property, retail, manufacturing, and real estate signage.
Options for your aluminum signs can include cut to shape signs, drilled holes for easy hanging, and a single or double-sided printing.
Common sizes for aluminum signs include: 12"x12", 24"x6", 18"x24", 2'x2', 4'x4', and more.
Durability
perfect for indoor and outdoor use
Our custom printed aluminum signs are made up of two .008" aluminum sheets sandwiching a solid polyethylene core. The 2mm (13.5 gauge) aluminum signs are extremely durable and thick enough for nearly every indoor and outdoor use.
Quality Production
form material to print to packaging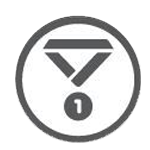 We start with the finest quality aluminum material and produce your design on world-class large format commercial printers using an eco-friendly four color print method with weather, fade, and abrasion resistant UV ink leaving your sign with gorgeous, vibrant colors.
Take a look at some of our work.